APP – ENERGY MANAGEMENT USING APPLICATIONS
Complete and Optimize Energy Management using Applications
With its solutions, EMPURON provides innovative technologies to design energy management systems in long-term using extensions - as it is known from the mobile phone market. Individual modules can be retrofitted or updated as needed. This is accomplished of course, in compliance with strict safety guidelines.
In Metering EMPURON provides hardware and software for the collection of meters of different manufacturers. For example, Meter2SCADA enables the highly cyclical meter reading using the protocols IEC 1107 DLMS or Modbus.
Using the comprehensive integration system EMPURON manages to utilize almost all market protocols and formats on a platform and process uniformly. Simultaneously, an EMPURON system can be used locally or centrally as a data gateway for the built-in formats.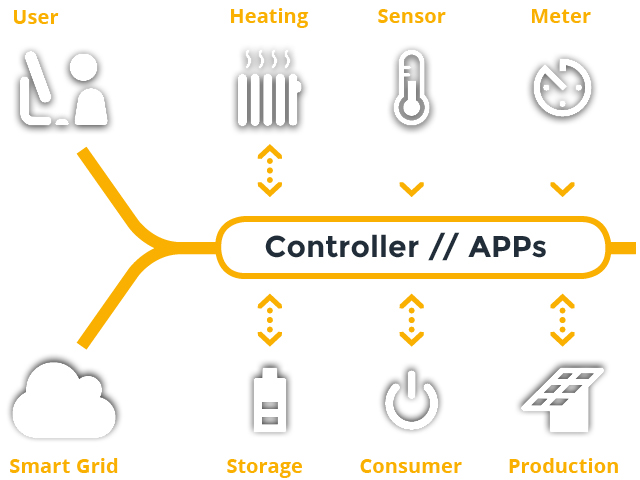 APP BASED GATEWAYS
Based on the empuron Gateway platforms single power management functions and interfaces can be added or expanded as needed - comparable to the technology, as found in mobile phones. Together with the data warehouse and artificial intelligence algorithms the APP technology of EMPURON systems are enabling variable and modeled solutions.
DISPLAY SOLUTIONS
EMPURON Display Solutions allows the Client-/Server-based presentation of plant data for energy processes. The structure of the self-running presentation is individually configurable. If several installations on a server are recorded, arbitrary plant data can be used for presentation. Therefore, different displays can be realized for different display locations.
METERING APPLICATIONS
EMPURON provides a number of components for metering and the metering data presentation:
• METER2SCADA: Transfer of high-cyclic counters with EMPURON Grid Gateway
   via the interfaces IEC 1107, Modbus and DLMS
• Metering Portals: Capture of numerical values in EMPURON EVE, reporting and web interface (Portal platform)
Comprehensive

I

nformation Provision
Based on different software and hardware modules, the provision of information is carried out at EMPURON systems:
• HTTPD for Siemens SINAUT Spectrum und Spectrum Power
• Grid Gateway
• Multi-Protokoll Interface Systems
• PLC and RTU Subsystems
• Extract Transfer snd Load Subsystems (ETL)